The scariest moment is always just before you start.

— Quote of the Day by Stephen King
It was a busy October on the seminar front. Just a few days after METM13, I found myself at KITES 2013, the annual meeting point of language technology in Finland. At lunch I got to talking with my fellow former students of translation studies about persistent general ignorance related to the quality of language services. Is language like toilet paper, such a banal, every day phenomenon that it is incomprehensible as a valuable concept to those outside the immediate professional circuit?
The rain in Spain stays mainly in the plain. But not where the gate opens in the beautiful Poblet of Tarragona. Warm weather kept with us all the way through METM13, the ninth (my first) annual meeting of Mediterranean Editors and Translators that offered top-professional perspectives on language, culture and identity.
Äiti huitaisi puhelimen kädestäni. Se luisui pitkin pöytää. Nappasin sen kiinni ja hankasin näyttöä paitani helmaan.
– Hei, se olisi voinut mennä rikki!
Äidin kasvot olivat äkkiä niin lähellä omiani, että erotin jok'ikisen ihohuokosen hänen nenässään.
– Nyt sinä kuuntelet, hän kivahti. – Vaikka vain tämän kerran.
Obviously I checked acronym BELF by googling before starting to write about it. And never mind its intriguing meanings in the urban dictionary, this rendition is about English as a Business Lingua Franca as introduced to the academic community in Louhiala-Salminen, Charles and Kankaanranta (Aalto University School of Business) in 2005.
Although I've been working in an entrepreneurish manner in the language and communications business since the end of the 20th century, my very own company Cape Context Oy turned just one last week. One year in business. This makes me want to take a look back on what has happened during the first year, and most of all, what I and the company have learned.
I've been reminded of the term transcreation quite a few times lately as international agencies specialized in it have approached me through online professional listings. Which is a good thing, absolutely. I couldn't be happier about working on this type of projects because they are exactly in what I have interest, experience and training.
Sure it's nice to travel abroad and share your exotic sights and experiences in a blog. You don't always have to go far to find a perfect vacation, however. Approach your hometown like you were on holiday, and you'll feel it differently just by changing your mindset and routine. An affordable and ecological way to travel. So, why not write a travel blog Helsinki about my hometown? Summer 2013 was special because we had the Tall Ships Races here.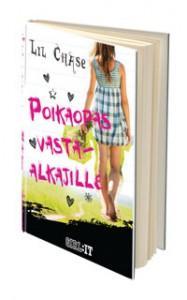 – Senkin tollo! Justin huutaa, ja muu joukkue on samaa mieltä vielä rumemmilla sanoilla. Pallo menee sivurajan yli ja suoraan Charlien jalkojen edestä sadevesikouruun. No, sainpahan ainakin kaverin huomion puoleeni. Pyyhin nenäni ja yritän näyttää edes vähän coolilta mennessäni hakemaan palloa. Tyttöjen tuijotuksesta piittaamatta annan sivurajaheiton ja moikkaan rennosti. Poikaopas vasta-alkajille alkuteos Boys for Beginners. Kirjailija Lil Chase. Suomennos Virve Juhola.
Lue lisää Poikaopas vasta-alkajille -kirjasta GIRL:IT-kerhon sivuilta…